Shakespeare Professors I have known
One of the nice things about living in a university town is the professors you get to know if you attended their classes, or play tennis with them, or "party" with at one of the frequent pot lucks in town. Last year, I met Prof.
Zoltan Markus
at
Marlo Belschner's
defense of her Ph.D. dissertation on hanging in Shakespeare's plays and others. I snapped a photo of Marlo and the rest of her committee that day.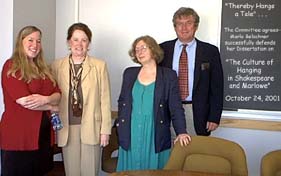 Zoltan is the newest Shakespeare prof at SIU to show interest in the Marlowe=Shakespeare possibility, in particular my
"epic" poem
on the subject. Last year, recently retired Prof.
Herb Donow
, told me that the Marlowe-Shakespeare theory made a lot of sense in the political climate of that time. Other Shakespeare professors I have known have also been tolerant of (if not fully accepting), the Marlowe=Shakespeare theory. As far back as 1980, I told an amused Prof.
Robert Griffin
that Marlowe was the author of the Shakespeare plays. Prof.
Jack Brown
(now deceased) was also receptive to the theory. The current head of Shakespeare studies at SIUC,
Prof. Mary Lamb
isn't ready to accept
The Marliad
as a Ph.D. dissertation....yet (see
related article
), but I don't think any of them would care to debate me on the topic, especially since most are open to the possibility that Marlowe was (one of the concealed authors) behind the Shakespeare plays....I wonder what my undergraduate Shakespeare prof, the late Father
Walter Paulits
would think.